---
Alan Gin is Associate Professor of Economics at the University of San Diego. He received a Bachelor of Science degree in Economics from California Polytechnic State University at San Luis Obispo, and his Master's of Arts and Ph.D. degrees, both in Economics, from the University of California at Santa Barbara. His work experience includes stints with the Community Development Department of the County of Fresno and the Public Works Department of the City of Oxnard.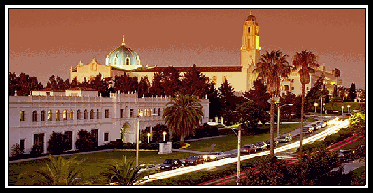 Professor Gin came to the University of San Diego in 1988, after having previous taught at Loyola Marymount University and the University of California at Santa Barbara. He has taught undergraduate courses in Principles of Economics, Statistics, Intermediate Microeconomics, Urban Economics, Public Finance, Environmental Economics, Industrial Organization, Managerial Economics, and the Economic Development of Asia. Graduate-level courses taught include Statistics, Quantitative Methods, Managerial Economics, the Business Environment of Asia, and Doing Business with China. In 2001, he was awarded the USD Parents' Association Award of Excellence after being nominated by one of his students.
Professor Gin is one of the affiliated faculty members of the University of San Diego's Real Estate Institute. His other research interests include local public finance, urban transportation, and the economy of San Diego. On the latter subject, he is best known for developing and publishing the University of San Diego's Index of Leading Economic Indicators for San Diego County, a monthly report on the outlook for the local economy. Professor Gin's insights on the local economy have made him a popular source for interviews, and he has given roughly 700 interviews to local and national media sources. He has been quoted in the San Diego Union-Tribune, the Wall Street Journal, the New York Times, the Los Angeles Times, the San Diego Daily Transcript, the San Diego Business Journal, and other publications. He has also been interviewed on KPBS, KFMB, KOGO, KSDO, and KCEO radio, and has made appearances on KFMB, KGTV, KNSD, KUSI, KSWB, and XETV television. For his work on forecasting the local economy, he has been named to the San Diego Business Journal's "Who's Who" list.
In recent years, Professor Gin has developed an interest in the business environment of Asia in general and of greater China in particular. At one point, he served as the Director of Communications for the John M. Ahlers Center for International Business at the University of San Diego. He teaches in the University's Summer Study Abroad Program in Hong Kong, and has traveled extensively in the region. In March 1997, he married Ms. Theresa Leung, a Cathay Pacific Airlines flight attendant who is from and continues to live in Hong Kong. The couple have a daughter, Alesa, who was born in February 1998, and who has already flown over 100,000 miles in her young life. They are expecting a second child, a son, in August 2002.