Note: The tentative date for the release of next month's report is June 26.
May 29, 2008 -- The University of San Diego's Index of Leading Economic Indicators for San Diego County fell 1.4 percent in April. The drop was led by a massive decline in consumer confidence. Three other components - - building permits, initial claims for unemployment insurance, and help wanted advertising - - were down by a lesser but still significant extent. On the upside, local stock prices were up moderately, while the outlook for the national economy was slightly positive. With April's decline, the USD Index has now fallen in 24 of the last 25 months, and the last seven declines have all been significant.
---
Index of Leading Economic Indicators
The index for San Diego County that includes the components listed below (April)
Source: University of San Diego
- 1.4 %
Building Permits
Residential units authorized by building permits in San Diego County (April)
Source: Construction Industry Research Board
- 1.31%
Unemployment Insurance
Initial claims for unemployment insurance in San Diego County, inverted (April)
Source: Employment Development Department
- 0.86%
Stock Prices
San Diego Stock Exchange Index (April)
Source: San Diego Daily Transcript
+0.87%
Consumer Confidence
An index of consumer confidence in San Diego County (April)
Source: San Diego Union-Tribune
- 5.66%
Help Wanted Advertising
An index of online help wanted advertising in San Diego (April)
Source: Monster Worldwide
- 1.70%
National Economy
Index of Leading Economic Indicators (April)
Source: The Conference Board
+0.19%
---
The outlook for the local economy continues to be for weakness through the rest of the year and now likely into the first part of 2009. The weakness will be manifested in lower economic activity in areas such as retail and home sales, and in a slow growth rate for employment. March's decline in jobs compared to the previous year turned out to be an aberration, although just barely, as employment in April was up a scant 2,700 compared to a year ago. Job growth is now expected to be in the 0 to 2,500 range for the year as a whole.
Highlights: Residential units authorized by building permits fell for the fourth straight month in April. Residential units are projected to total about 3,400 for the year at the current pace, which would be the lowest yearly total since probably the 1960s. One impact of this is a decrease of 9 percent or 7,900 jobs in construction compared to a year ago, which is by far the largest job loss of any sector of the local economy. The drop in construction and home sales has affected other parts of the economy as well, as employment has dropped in furniture and appliance stores and in building materials (home improvement) stores. . . Both labor market variables were negative. After a brief respite in March, initial claims for unemployment insurance jumped in April, which traditionally has been a low month in terms of claims. The hiring side of the market continues to lag, as help wanted advertising fell for the 20th straight month. Despite the bad news on both sides of the labor market, local unemployment rate edged downward to 5.0 percent from March's five-year high of 5.3 percent. . . Local consumer confidence continues to plunge, as bad news continues to batter the psyche of local consumers. Worries about inflation beyond gas prices can now be added to the mix of bad economic news that includes the weak housing market, turmoil in the financial markets, and high energy prices. Even after seasonally adjusting, smoothing, and calibrating the data, the 5.66 percent drop in consumer confidence in April was the largest one month change ever in any one component of the Index. . . Local stock prices were up for the second month in a row, signaling some optimism in the financial markets about the prospects for San Diego companies. . . The national Index of Leading Economic Indicators edged upward for the second straight month. Despite job losses in each of the first four months of 2008, GDP growth was positive in the first quarter, albeit at an anemic rate of 0.6 percent.
April's decrease puts the USD Index of Leading Economic Indicators for San Diego County at 121.0, down from March's reading of 124.4. Despite some revisions in the national Index of Leading Economic Indicators, there was no revision of the previously reported changes of -1.4 percent for the month. Please visit the Website address given below to see the revised changes for the individual components. The values for the USD Index for the last year are given below:
Index

% Change
2007
APR
139.1
-0.1%
MAY
138.4
-0.5%
JUN
137.3
-0.8%
JUL
136.8
-0.4%
AUG
134.6
-1.6%
SEP
133.5
-0.8%
OCT
131.7
-1.4%
NOV
129.4
-1.8%
DEC
128.1
-1.0%
2008
JAN
126.1
-1.6%
FEB
124.4
-1.4%
MAR
122.7
-1.4%
APR
121.0
-1.4%
---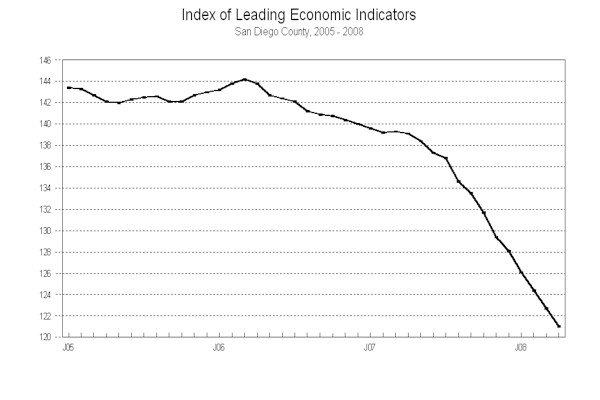 ---
For more information on the University of San Diego's Index of Leading Economic Indicators, please contact: