Leading Economic Indicators Down in October
Note: Due to the holidays, the release date for next month's report is uncertain.
November 30, 2011 -- The USD Burnham-Moores Center for Real Estate's Index of Leading Economic Indicators for San Diego County fell 0.2 percent in October. For the fourth straight month, half of the components were up and half were down. Sharp decreases in consumer confidence and residential units authorized by building permits outweighed a strong increase in the outlook for the national economy and a moderate gain in help wanted advertising to push the USD Index to a loss. Initial claims for unemployment insurance (positive) and local stock prices (negative) were virtually unchanged and offset each other.
Index of Leading Economic Indicators




The index for San Diego County that includes the components listed below (October

)
Source: USD Burnham-Moores Center for Real Estate
- 0.2 %

Building Permits


Residential units authorized by building permits in San Diego County (October)
Source: Construction Industry Research Board

- 1.41%

Unemployment Insurance


Initial claims for unemployment insurance in San Diego County, inverted (October)
Source: Employment Development Department
+ 0.06%

Stock Prices


San Diego Stock Exchange Index (October)


Source:

San Diego Daily Transcript

- 0.05%

Consumer Confidence


An index of consumer confidence in San Diego County, estimated (October)


Source: The Conference Board

- 1.89%

Help Wanted Advertising


An index of online help wanted advertising in San Diego (October)
Source: Monster Worldwide
+ 0.53%

National Economy


Index of Leading Economic Indicators (October)
Source: The Conference Board
+ 1.83%
October's decline pushed the string of alternating declines and advances in the USD Index to six straight months. With no turning point being signaled, the outlook for the local economy remains unchanged from what was previously reported: positive but weak growth through at least the first half of 2012. One positive development is that the labor market is picking up a little in terms of job growth. Job growth for October was 24,000 when compared with the same month in 2010. That was the highest year-over-year increase in jobs since May 2005. The biggest year-over-year gains were in leisure and hospitality (+6,400 jobs), health care (+5,900), administrative and support services (+5,500), and professional, scientific and technology services (+3,100). The only sector that suffered a loss of jobs was construction (down 1,400), which reflects the continued weakness in the housing and other real estate markets.

Highlights: Residential units authorized by building permits fell for the fifth consecutive month. Due to strength at the beginning of the year, total units authorized are on a pace to top 4,900 in 2011. While this is up substantially compared to 2010, this would still make 2011 the third worst year ever for residential units authorized. Also problematic is that most of the increase is due to a surge in multi-family units authorized. While that provides needed rental housing, multi-family construction employs fewer workers than the construction of a comparable number of single-family units. . . Both labor market variables were positive in October. Initial claims for unemployment insurance were positive but almost unchanged, while help wanted advertising rose for the 10th straight month. The net result was that the local unemployment rate fell to 9.7 percent in October from a revised 9.8 percent in September. . . Consumer confidence fell for the fifth time in six months. Despite the weakness in confidence, consumers got the holiday buying season off to a strong start with record sales on "Black Friday" and "Cyber Monday". . . Local stock prices were actually 8.1 percent higher at the end of October than at the beginning. But the USD Index calculates stock prices by taking the average daily close for the entire month. When doing this for October and comparing to September, local stock prices ended up down slightly. . . The national Index of Leading Economic Indicators rose for the sixth month in a row and registered its biggest gain since November of last year. This suggests continued positive growth for the national economy. While no "double dip" downturn is expected in the near future, the outlook continues to be for slow growth. This is epitomized by the second estimate for Gross Domestic Product for the third quarter coming in at 2.0 percent, down from the previously reported "advance" estimate of 2.5 percent.

October's decrease puts the USD Index of Leading Economic Indicators for San Diego County at 115.9, down from 116.1 in September. Although there were revisions in the data for building permits and the national Index of Leading Economic Indicators, there was no revision to the previously reported change or the level of the USD Index for September. Please visit the Website address given below to see the revised changes for the individual components. The values for the USD Index for the last year are given below:
Index

% Change
2010
OCT
110.0
+0.0%
NOV
110.2
+0.3%
DEC
110.7
+0.4%
2011
JAN
111.7
+1.0%
FEB
114.0
+2.0%
MAR
115.3
+1.2%
APR
116.4
+1.0%
MAY
117.2
+0.7%
JUN
116.9
-0.2%
JUL
117.2
+0.2%
AUG
116.0
-1.0%
SEP
116.1
+0.1%
OCT
115.9
-0.2%
---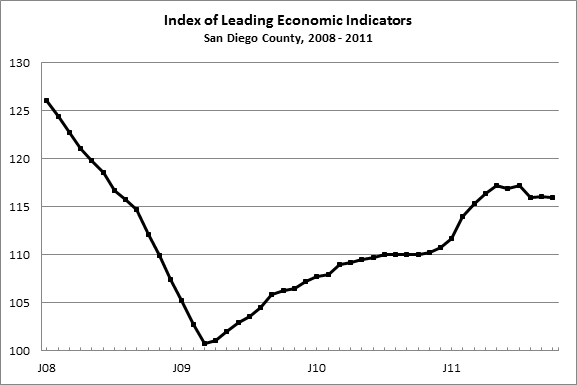 ---
For more information on the University of San Diego's Index of Leading Economic Indicators, please contact: