Leading Economic Indicators Up in May
Note: The tentative release date for next month's report is July 26.
June 29, 2011 -- The USD Burnham-Moores Center for Real Estate's Index of Leading Economic Indicators for San Diego County rose 0.7 percent in May. Leading the way to the upside were sharp increases in help wanted advertising and the outlook for the national economy. Building permits, initial claims for unemployment insurance, and local stock prices were also positive, although to a lesser extent. These gains outweighed a small decline in local consumer confidence to push the USD Index to its seventh straight gain, and the 26th month in a row without a decline.
Index of Leading Economic Indicators




The index for San Diego County that includes the components listed below (May

)
Source: USD Burnham-Moores Center for Real Estate
+ 0.7 %

Building Permits


Residential units authorized by building permits in San Diego County (May)
Source: Construction Industry Research Board

+ 0.27%

Unemployment Insurance


Initial claims for unemployment insurance in San Diego County, inverted (May)
Source: Employment Development Department
+ 0.73%

Stock Prices


San Diego Stock Exchange Index (May)


Source:

San Diego Daily Transcript

+ 0.58%

Consumer Confidence


An index of consumer confidence in San Diego County, estimated (May)


Source: The Conference Board

- 0.31%

Help Wanted Advertising


An index of online help wanted advertising in San Diego (May)
Source: Monster Worldwide
+ 1.29%

National Economy


Index of Leading Economic Indicators (May)
Source: The Conference Board
+ 1.53%
The outlook continues to be positive for the local economy, and growth is expected at least through the end of 2011. The USD Index has been signaling a rebound for the last two years, yet the local economy remains in difficult straits. What is the explanation for that? The recession in the local economy probably ended in late 2009, meaning that the local economy stopped falling at that point. It has grown since then, but the growth has been very slow. Given how far down the economy was when it hit bottom, a slow improvement from that bottom would leave the economy in a bad situation. For example, the unemployment rate has improved by nearly a percent and a half from its peak, but that still leaves the rate in the 9 percent range, which would be terrible under any other circumstance.

Highlights: Residential units authorized by building permits rose for the fifth consecutive month, although the gain was not nearly as large as the strong moves seen in the first four months of 2011. Multi-family units authorized had previously fueled the surge in permits, but only 10 multi-family units were authorized in all of May. . . Both sides of the labor market remain firm. Initial claims for unemployment insurance continue to fall, which is positive for the USD Index and a sign of reduced job loss in the local economy. The hiring side of the market is also strong, with help wanted advertising up for five months in a row, including significant gains in the last four months. The net result was that the local unemployment rate fell to 9.6 percent in May, down from 9.8 percent in April. This was the second month in a row the local unemployment rate was below 10 percent after 22 consecutive months above that level. . . High gas prices and worries about the economy finally impacted local consumer confidence, which fell for the first time after rising for a full year. . . Local stock prices increased in May, even though the broader market averages were down. That's because the value for local stock prices is determined by taking the average daily close for the entire month, and strength in the first part of the month outweighed the negative trend at the end of the month. . . After falling for the first time in 10 months in April, the national Index of Leading Economic Indicators turned positive again and registered the largest increase of any component. Similar to the local situation, the outlook for the national economy is for positive but slow growth. The third estimate of GDP growth for the first quarter of 2011 showed a 1.9 percent annualized growth rate for the national economy, up slightly from last month's second estimate of 1.8 percent.

May's increase puts the USD Index of Leading Economic Indicators for San Diego County at 117.2, up from April's revised reading of 116.4. Revised data for building permits, consumer confidence, and the national Index of Leading Economic Indicators led to an upward revision in the value of the USD Index from the previously reported value of 116.3. Please visit the Website address given below to see the revised changes for the individual components. The values for the USD Index for the last year are given below:
Index

% Change
2010
MAY
109.5
+0.3%
JUN
109.7
+0.2%
JUL
110.0
+0.3%
AUG
110.0
+0.0%
SEP
110.0
+0.0%
OCT
110.0
+0.0%
NOV
110.2
+0.3%
DEC
110.7
+0.4%
2011
JAN
111.7
+1.0%
FEB
114.0
+2.0%
MAR
115.3
+1.2%
APR
116.4
+0.9%
MAY
117.2
+0.7%
---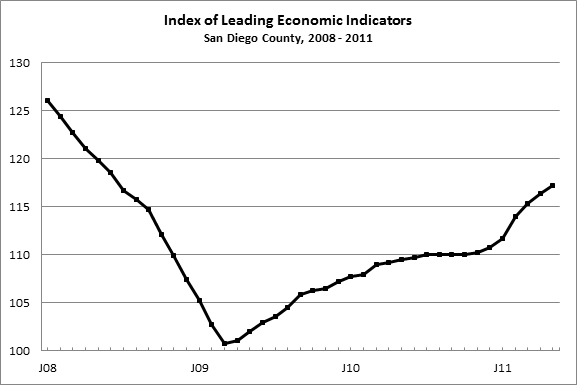 ---
For more information on the University of San Diego's Index of Leading Economic Indicators, please contact: