Leading Economic Indicators Up in April
Note: The tentative release date for next month's report is June 29.
May 27, 2010 -- The University of San Diego's Index of Leading Economic Indicators for San Diego County rose 0.2 percent in April. Strong gains in local stock prices and help wanted advertising, along with a minor gain in building permits, pushed the USD Index to its 13th consecutive monthly gain. The breadth of the advance was mixed, with half the components moving downward, although the drops in initial claims for unemployment insurance and the outlook for the national economy were relatively small. The biggest concern was a moderate fall in consumer confidence.
Index of Leading Economic Indicators




The index for San Diego County that includes the components listed below (April

)
Source: University of San Diego

+ 0.2 %

Building Permits


Residential units authorized by building permits in San Diego County (April)
Source: Construction Industry Research Board

+ 0.13%

Unemployment Insurance


Initial claims for unemployment insurance in San Diego County, inverted, estimated (April)
Source: Employment Development Department
- 0.16%

Stock Prices


San Diego Stock Exchange Index (April)


Source:

San Diego Daily Transcript

+ 1.24%

Consumer Confidence


An index of consumer confidence in San Diego County (April)


Source:

San Diego Union-Tribune

- 0.92%

Help Wanted Advertising


An index of online help wanted advertising in San Diego (April)
Source: Monster Worldwide
+ 0.97%

National Economy


Index of Leading Economic Indicators (April)
Source: The Conference Board
- 0.18%
The outlook for the local economy continues to be for moderate growth for the rest of 2010. There are signs that things are picking up, particularly on the all important job growth front. Employment has now been up month-to-month for three straight months. Revised numbers for March show 6,600 jobs added to the local economy, the most in over two years, and the 1,600 jobs added in April marked the first time since 2006 where jobs increased in an April compared to March. The employment sectors gaining in April were the Federal government (up 1,600 workers, largely due to the Census), leisure and hospitality (up 1,100 jobs), employment services (up 600), and construction (up 500). On the downside, retail trade continues to contract (down 600 jobs) as local consumer confidence has hit a plateau and has started edging downward (see below).
Highlights: Construction activity continues to pick up as residential units authorized by building permits rose for the fifth consecutive month. 2010 will likely be the second worst year ever for residential units authorized, but will still be up significantly from 2009, which was the worst year ever. One concern will be whether there are enough firms and workers left in the construction industry to meet the demand in the years ahead, as many of those firms and workers have left the region or the industry entirely. . . There were mixed results in terms of the labor market components. Initial claims for unemployment insurance were up in April, which broke a string of six straight monthly declines, although the change was not very large. On the hiring side of the market, help wanted advertising was up again and still stands at its highest level since December 2008. The net result was that the local unemployment rate dropped to 10.4 percent in April from a revised rate of 11 percent in March. . . The trend continues to be negative for local consumer confidence. It will probably take a significant improvement in the labor market, both in terms of job growth and the unemployment rate, before consumer confidence starts to rebound again. . . Local stock prices were up again in April, although those gains will be reversed by the turmoil in the financial market in May. . . The national Index of Leading Economic Indicators turned negative for the first time in a year, perhaps signaling potential problems with the national economy in the future. Economists usually look for three consecutive changes in one direction for a leading index as a signal for a potential turning point in the economy. For now, things remain positive, with Gross Domestic Product (GDP) growing at a moderate 3.2 percent annualized rate in the first quarter of 2010. That was the third quarter in a row with positive growth in the GDP.
April's increase puts the USD Index of Leading Economic Indicators for San Diego County at 109.2, up from March's reading of 109.0. Although there were revisions in building permits, initial claims for unemployment insurance, and the national Index of Leading Economic Indicators, there was no change in the previously reported change and level of the USD Index for the month. Please visit the Website address given below to see the revised changes for the individual components. The values for the USD Index for the last year are given below:
Index

% Change
2009
APR
101.1
+0.4%
MAY
102.0
+0.8%
JUN
102.9
+0.9%
JUL
103.6
+0.6%
AUG
104.5
+0.9%
SEP
105.8
+1.2%
OCT
106.3
+0.5%
NOV
106.5
+0.1%
DEC
107.2
+0.7%
2010
JAN
107.7
+0.5%
FEB
107.9
+0.2%
MAR
109.0
+1.0%
APR
109.2
+0.2%
---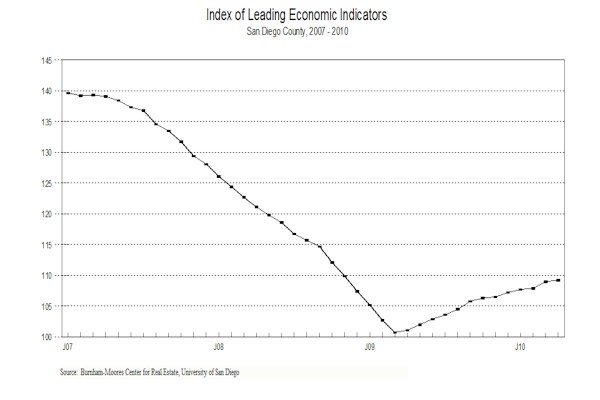 ---
For more information on the University of San Diego's Index of Leading Economic Indicators, please contact: