Leading Economic Indicators Up in August
Note: The tentative release date for next month's report is October 27.
September 24, 2009 -- The University of San Diego's Index of Leading Economic Indicators for San Diego County rose 0.6 percent in August. As has been the case for the previous four months. a sharp gain in local consumer confidence led the move to the upside. Also advancing solidly were local stock prices and the outlook for the national economy. These gains outpaced big negative moves in building permits and initial claims for unemployment insurance and a smaller drop in help wanted advertising to push the USD Index to its fifth straight increase.

Index of Leading Economic Indicators
The index for San Diego County that includes the components listed below (August)
Source: University of San Diego
+ 0.6 %
Building Permits
Residential units authorized by building permits in San Diego County (August)
Source: Construction Industry Research Board
- 1.47%
Unemployment Insurance
Initial claims for unemployment insurance in San Diego County, inverted, estimated (August)
Source: Employment Development Department
- 1.21%
Stock Prices
San Diego Stock Exchange Index (August)
Source: San Diego Daily Transcript
+ 0.77%
Consumer Confidence
An index of consumer confidence in San Diego County (August)
Source: San Diego Union-Tribune
+ 4.92%
Help Wanted Advertising
An index of online help wanted advertising in San Diego (August)
Source: Monster Worldwide
- 0.52%
National Economy
Index of Leading Economic Indicators (August)
Source: The Conference Board
+1.17%
August's gain was the biggest monthly gain in the USD Index since March 2004. It reinforces the view projected since the Index first turned positive that the local economy is approaching a bottom. The breadth of the advance remains mixed, with the number of rising components matched by the number of decliners. This month's numbers are encouraging in that the components that were negative were down by smaller amounts than have recently been this case. A key in the coming months will be whether the local economy can stabilize as the summer ends and we head into the slower fall and winter months. Back-to-school sales have already been classified as weak, and not much improvement is expected in the holiday buying season. As was indicated in previous reports, it looks like a bottom is more likely in the first half of 2010 than in the latter part of 2009.
Highlights: Residential units authorized by building permits in August were the third worst on record, with only January and February of this year being lower. Of the 102 units authorized, only four with multi-family units, which tied the worst level ever for a single month. With housing sales picking up and inventory dropping, there is a concern about a possible bottleneck in residential construction as many developers have either scaled back their operations considerably or have left the region entirely. . . Both labor market variables remain negative, but are "less bad" than in recent months. Job loss continues to be high, with initial claims for unemployment insurance remaining well above the 30,000 level. Although it was not enough to change the negative trend in initial claims, August's level was down 10 percent from the all-time high set in July. Help wanted advertising was down for the 36th month in a row, but it was the smallest decrease since October 2006. The net result was that the local unemployment rate was a high 10.4 percent in August, but was unchanged from the previous month. . . Local consumer confidence surged as consumers' views of the present situation and their expectations both rebounded sharply, with the former reaching a 13-month high and the latter reaching a 28-month high. . . The gain in August put local stock prices up 40 percent from the March 9 low as the financial markets remain positive about the outlook for San Diego companies. . . The national Index of Leading Economic Indicators has now increased for five months in a row, implying a rebound in the national economy is on the way. Many economists, including the Federal Reserve Chairman, think the national recession is now over, with the Gross Domestic Product (GDP) likely to turn positive in the current (3rd) quarter. August's decrease puts the USD Index of Leading Economic Indicators for San Diego County at 102.4, up from July's revised reading of 101.8. Revisions in building permits for July and in the national Index of Leading Economic Indicators for April through July affected the change in the USD Index for July and its level for June and July. Please visit the Website address given below to see the revised changes for the individual components. The values for the USD Index for the last year are given below:
Index

% Change
2008
AUG
116.3
-0.8%
SEP
115.4
-0.8%
OCT
112.8
-2.2%
NOV
110.6
-2.0%
DEC
108.2
-2.2%
2009
JAN
105.7
-2.3%
FEB
102.9
-2.7%
MAR
100.7
-2.2%
APR
100.9
+0.2%
MAY
101.2
+0.3%
JUN
101.7
+0.4%
JUL
101.8
+0.2%
AUG
102.4
+0.6%
---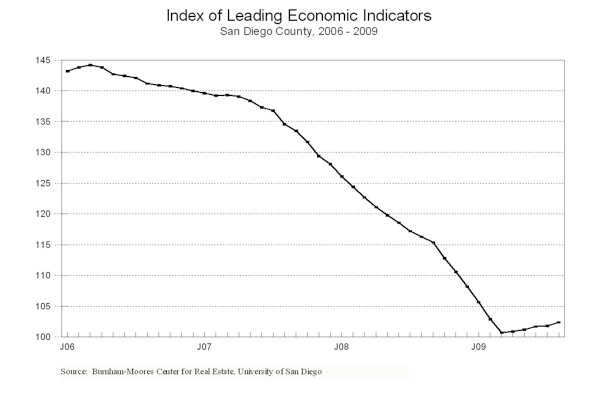 ---
For more information on the University of San Diego's Index of Leading Economic Indicators, please contact: