Leading Economic Indicators Up in May
Note: The tentative release date for next month's report is July 28.

June 25, 2009 -- The University of San Diego's Index of Leading Economic Indicators for San Diego County rose 0.3 percent in May. Another strong gain in local consumer confidence powered the USD Index to its second consecutive gain after 24 straight down months. Also supporting the advance were sharp increases in local stock prices and the outlook for the national economy, along with a smaller rise in building permits. On the downside, the labor market variables continue to plunge, with both initial claims for unemployment insurance and help wanted advertising sharply negative.



Index of Leading Economic Indicators
The index for San Diego County that includes the components listed below (May)
Source: University of San Diego
+ 0.3 %
Building Permits
Residential units authorized by building permits in San Diego County (May)
Source: Construction Industry Research Board
+ 0.47%
Unemployment Insurance
Initial claims for unemployment insurance in San Diego County, inverted, estimated (May)
Source: Employment Development Department
- 3.12%
Stock Prices
San Diego Stock Exchange Index (May)
Source: San Diego Daily Transcript
+ 1.17%
Consumer Confidence
An index of consumer confidence in San Diego County (May)
Source: San Diego Union-Tribune
+ 4.22%
Help Wanted Advertising
An index of online help wanted advertising in San Diego (May)
Source: Monster Worldwide
- 3.46%
National Economy
Index of Leading Economic Indicators (May)
Source: The Conference Board
+2.39%

At this point, cautious optimism needs to be exercised with respect to the local economy. Another positive reading for June would be the third in a row for the USD Index and would give the traditional signal of a bottom for San Diego's economy. That trough though would still be roughly six to 12 months in the future. As was mentioned in last month's report, the rebound is likely to be relatively weak, given that the positive numbers in the leading indicators have not been very strong. Finally, even after the economy turns around, unemployment is still likely to be high as businesses tend to be cautious in terms of hiring coming out of a slump. Still, the outlook is better than just two months ago, and a flat local economy is better than one that is declining.

Highlights: While residential units authorized by building permits are down on a year-over-year basis, the trend continues to be positive month-to-month, particularly when compared to the record low levels registered in earlier in the year. Any pickup in construction activity would be welcome as construction employment has fallen by almost 30,000 since its peak in June 2006. . . Job losses continue to be high as initial claims for unemployment insurance topped the 30,000 mark for the fifth consecutive month. Hiring also remains weak, with help wanted advertising now having fallen for 34 straight months. The net result was that the local unemployment rate edged closer to the 10 percent mark with a reading of 9.4 percent in May and the year-over-year job loss countywide topping 50,000. . . The USD Index uses a moving average to smooth the month-to-month fluctuations that sometimes distort the trend in the data. Based on this, local consumer confidence is up sharply when compared to the low levels of recent months. This is significant given that consumption typically represents two-thirds to 70 percent of economic activity. . . The rally in local stock prices continued in May as the financial markets signaled optimism in the prospects for San Diego-based companies. . . After registering its biggest gain since June 2005 in April, the national Index of Leading Economic Indicators did even better in May. While the news on the national economy remains grim, things appear to be "less bad" than in recent months. Examples include job losses and the number of initial claims for unemployment insurance being lower than in previous months. Also, the contraction in GDP for the first quarter was revised to a 5.7 percent annualized rate, down from the 6.1 percent drop originally estimated.
May's decrease puts the USD Index of Leading Economic Indicators for San Diego County at 101.2, up from April's reading of 100.9. Revised data for building permits in April and for the national Index of Leading Economic Indicators for January through April affected only the previously reported level of the USD Index for January. Please visit the Website address given below to see the revised changes for the individual components. The values for the USD Index for the last year are given below:
Index

% Change
2008
MAY
119.8
-1.1%
JUN
118.6
-1.0%
JUL
117.2
-1.3%
AUG
116.3
-0.8%
SEP
115.4
-0.8%
OCT
112.8
-2.2%
NOV
110.6
-2.0%
DEC
108.2
-2.2%
2009
JAN
105.7
-2.3%
FEB
102.9
-2.7%
MAR
100.7
-2.2%
APR
100.9
+0.2%
MAY
101.2
+0.3%
---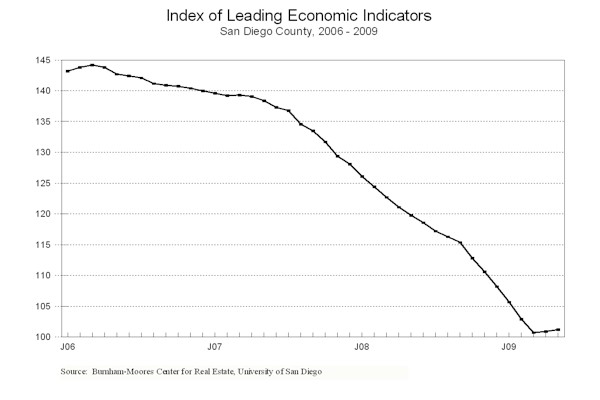 ---
For more information on the University of San Diego's Index of Leading Economic Indicators, please contact: