Leading Economic Indicators Down Sharply in November
Note: The tentative release date for next month's report is January 29.
December 19, 2008 -- The University of San Diego's Index of Leading Economic Indicators for San Diego County fell 1.9 percent in November. This was the second largest drop ever in the Index, topped only by October's drop of 2.3 percent. Every component was down, and with the exception of the outlook for the national economy, they were all down significantly, as defined by a more than one percent change for the month. With November's drop, the USD Index has now fallen in 31 of the last 32 months.
---
Index of Leading Economic Indicators
The index for San Diego County that includes the components listed below (November)
Source: University of San Diego
- 1.9 %
Building Permits
Residential units authorized by building permits in San Diego County (November)
Source: Construction Industry Research Board
- 2.01%
Unemployment Insurance
Initial claims for unemployment insurance in San Diego County, inverted, estimated (November)
Source: Employment Development Department
- 2.10%
Stock Prices
San Diego Stock Exchange Index (November)
Source: San Diego Daily Transcript
- 2.43%
Consumer Confidence
An index of consumer confidence in San Diego County (November)
Source: San Diego Union-Tribune
- 1.98%
Help Wanted Advertising
An index of online help wanted advertising in San Diego (November)
Source: Monster Worldwide
- 2.29%
National Economy
Index of Leading Economic Indicators (November)
Source: The Conference Board
-0.79%
---
The outlook for the local economy remains grim at this point, at least for the short term. Job growth has become decidedly negative, and the local unemployment rate is likely to approach and possibly top 8 percent some time in 2009. As was mentioned in last month's report, a combination of lower gas prices, a pickup in home sales spurred by lower prices and interest rates, and a massive Federal stimulus package may bring stability to the local economy in the second half of next year. For 2009 as a whole, job growth is expected to be in the -5,000 to zero range. The unemployment rate is expected to average 7.5 percent, with the second half of the year better than the first.

Highlights: Barring a surge in December, residential units authorized by building permits are likely to fall below the levels seen in the last downturn in the early 1990s. Less than 100 single-family units were authorized in November, the lowest number for a month on record. . . Both sides of the labor market remain under pressure as job losses mount and hiring plans remain weak. Initial claims for unemployment insurance are up more than 40 percent compared to the same month last year, and help wanted advertising has now fallen for 27 months in a row. As of this writing, the latest report on the local unemployment rate had not been released, but it is expected to top 7 percent. . . In the past, local consumer confidence responded positively to drops in the price of gasoline. But that relationship is not holding this time around, as the negative news about the rest of the economy overwhelms the positive news of lower gas prices. . . The drop in the stock market continued in November, although the damage to local stock prices was not nearly as bad as what occurred in October. . . The National Bureau of Economic Research (NBER) has declared the national economy in a recession, with economic activity peaking in December 2007. Even though the Gross Domestic Product (GDP) grew in the first two quarters of 2008, the NBER based its determination on other factors, particularly the loss of jobs. The national economy has lost jobs in each month of 2008, with a total of nearly 2 million jobs lost. That weakness is finally beginning to take a toll on the GDP, with the growth rate in the third quarter being revised downward to -0.5 percent from -0.3 percent. The national Index of Leading Economic Indicators may have foreshadowed the coming recession when it fell for six of seven months beginning in August 2007.

November's decrease puts the USD Index of Leading Economic Indicators for San Diego County at 110.6, down from October's revised reading of 112.7. While there was no impact on the previously reported change for October, revisions in the data for building permits and the national Index of Leading Economic Indicators caused the USD Index value to be revised downward from 112.8 for the month. Please visit the Website address given below to see the revised changes for the individual components. The values for the USD Index for the last year are given below:

Index

% Change
2007
NOV
129.4
-1.8%
DEC
128.1
-1.0%
2008
JAN
126.1
-1.6%
FEB
124.4
-1.4%
MAR
122.7
-1.4%
APR
121.1
-1.3%
MAY
119.8
-1.1%
JUN
118.6
-1.0%
JUL
117.2
-1.3%
AUG
116.3
-0.8%
SEP
115.4
-0.8%
OCT
112.7
-2.3%
NOV
110.6
-1.9%
---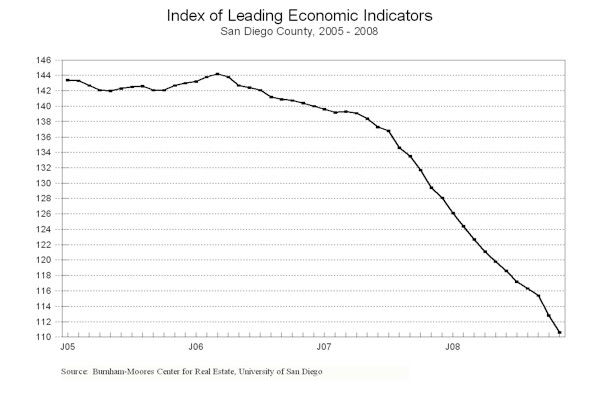 ---
For more information on the University of San Diego's Index of Leading Economic Indicators, please contact: