Note: The tentative date for the release of next month's report is September 30.
August 28, 2008 -- The University of San Diego's Index of Leading Economic Indicators for San Diego County fell 1.5 percent in July. Leading the way to the downside were sharp drops in consumer confidence, initial claims for unemployment insurance, and the outlook for the national economy. Two other components - - local stock prices and help wanted advertising - - were also down moderately. On the positive side, building permits were up, albeit only slightly so. July's drop was the tenth consecutive significant decrease in the USD Index, which has fallen in 27 of the last 28 months.
---
Index of Leading Economic Indicators
The index for San Diego County that includes the components listed below (July)
Source: University of San Diego
- 1.5 %
Building Permits
Residential units authorized by building permits in San Diego County (July)
Source: Construction Industry Research Board
+ 0.17%
Unemployment Insurance
Initial claims for unemployment insurance in San Diego County, inverted (July)
Source: Employment Development Department
- 1.89%
Stock Prices
San Diego Stock Exchange Index (July)
Source: San Diego Daily Transcript
- 0.58%
Consumer Confidence
An index of consumer confidence in San Diego County (July)
Source: San Diego Union-Tribune
- 4.72%
Help Wanted Advertising
An index of online help wanted advertising in San Diego (July)
Source: Monster Worldwide
- 0.74%
National Economy
Index of Leading Economic Indicators (July)
Source: The Conference Board
- 1.35%
---
The outlook for the local economy continues to be negative, with no signs of a rebound in sight. Job growth remains negative, although most of the damage remains in the real estate sectors (construction, lending, and real estate). The only areas outside of real estate that are being adversely affected have some connection to the housing slump, such as home furnishings and appliance stores, as well as home improvement stores. One positive development is the drop in gasoline prices, which have fallen more than 70 cents per gallon since the peak earlier this summer.
Highlights: The trend in residential units authorized by building permits was positive for a second month in a row, even though the number of permits for July was low. A moving average of the data is used to capture trends and smooth random month-to-month fluctuations. . . The news continues to be bad on both sides of the labor market. The pace of job losses continues to be high, as evidenced by elevated levels of initial claims for unemployment insurance. Hiring remains weak, with help wanted advertising falling for the 23rd month in a row. The net result was that the local unemployment rate jumped to 6.4 percent in July from a revised 6.0 percent in June, marking the first time the unemployment rate has topped 6 percent since the 1990s. . . Local consumer confidence continues to be at historically low levels, and is down more than 50 percent from a year ago. Historically, there has been a strong inverse correlation between local consumer confidence and gasoline prices. It remains to be seen whether the recent decline in local gasoline prices will be enough to turn around the negative feelings among consumers. . . Although local stock prices started to rebound towards the end of the month, the average daily close for July was down compared to June. . . The national Index of Leading Economic Indicators registered its largest drop since August of last year. News on the national economy remains mixed. Although the advance estimate of Gross Domestic Product growth for the second quarter of 2008 was a positive 1.9 percent, the first quarter growth was revised downward to 0.9 percent and growth in the fourth quarter of 2007 was revised downward to a negative 0.2 percent.
July's decrease puts the USD Index of Leading Economic Indicators for San Diego County at 116.9, down from June's revised reading of 118.6. Revised data on building permits and the national Index of Leading Economic Indicators led to revisions in the USD Index value for April, May, and June, and to revisions in the previously reported changes for April and May. Please visit the Website address given below to see the revised changes for the individual components. The values for the USD Index for the last year are given below:
Index

% Change
2007
JUL
136.8
-0.4%
AUG
134.6
-1.6%
SEP
133.5
-0.8%
OCT
131.7
-1.4%
NOV
129.4
-1.8%
DEC
128.1
-1.0%
2008
JAN
126.1
-1.6%
FEB
124.4
-1.4%
MAR
122.7
-1.4%
APR
121.1
-1.3%
MAY
119.8
-1.1%
JUN
118.6
-1.0%
JUL
116.9
-1.5%
---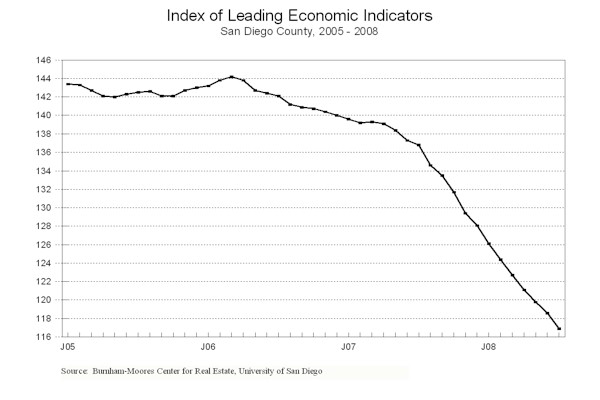 ---
For more information on the University of San Diego's Index of Leading Economic Indicators, please contact: