Note: The tentative release date for next month's report is May 28.
April 30, 2009 -- The University of San Diego's Index of Leading Economic Indicators for San Diego County fell 2.2 percent in March. All six components in the Index were down during the month, led by another record drop in help wanted advertising. Consumer confidence and initial claims for unemployment insurance were also sharply negative, while there were more moderate drops in building permits, local stock prices, and the outlook for the national economy. March's decline was the 35th decrease in the USD Index in 36 months. It was also the sixth month in a row that the Index declined by more than two percent, which corresponds to the six largest drops on record.
Index of Leading Economic Indicators
The index for San Diego County that includes the components listed below (March)
Source: University of San Diego
- 2.2 %
Building Permits
Residential units authorized by building permits in San Diego County (March)
Source: Construction Industry Research Board
- 1.04%
Unemployment Insurance
Initial claims for unemployment insurance in San Diego County, inverted, estimated (March)
Source: Employment Development Department
- 2.31%
Stock Prices
San Diego Stock Exchange Index (March)
Source: San Diego Daily Transcript
- 1.28%
Consumer Confidence
An index of consumer confidence in San Diego County (March)
Source: San Diego Union-Tribune
- 3.27%
Help Wanted Advertising
An index of online help wanted advertising in San Diego (March)
Source: Monster Worldwide
- 4.65%
National Economy
Index of Leading Economic Indicators (March)
Source: The Conference Board
-0.61%
The outlook for the local economy remains strongly negative at this point with no turnaround in sight. The bad job growth numbers for February got worse in March, with San Diego County losing more than 44,000 jobs compared to the year before. Both the national and local economies are caught in a vicious cycle where job losses are reducing incomes, which reduces consumption, auto sales, and home sales, which in turn leads to even more job losses. An added complication is the impact on the already stressed financial system as more loans go bad in this scenario.
Highlights: Residential units authorized by building permits rebounded after the two worst months ever, but it was not enough to reverse the downward trend in that component. Residential units authorized ended the first quarter down almost 25 percent compared to the same period in 2008. While multi-family units authorized were virtually unchanged (down 3 percent) for the period, single-family permits were down over 43 percent compared to 2008. . . Both sides of the labor market remain under heavy pressure as job losses mount and hiring dries up. Initial claims for unemployment insurance topped 30,000 for the third consecutive month, while help wanted advertising fell for the 31st month in a row. The net result was that the local unemployment rate shot up to 9.3 percent in March from 8.9 percent in February. . . The raw data on local consumer confidence was actually up in March compared to February. But the USD Index uses a moving average of the data to establish a trend by smoothing out random month-to-month fluctuations, resulting in a negative trend for consumer confidence that has stretched for 23 straight months. . . Local stock prices turned downward as the broader market averages hit a yearly low in early March. The subsequent rally off those lows later in the month was not enough to break a modest two month up move in local stocks. Despite that, local stocks prices ended the first quarter up 3.6 percent, compared to a 13.3 percent drop in the Dow Jones Industrial Average and a 3.1 percent decrease in the NASDAQ Composite Index. . . After various revisions, the national Index of Leading Economic Indicators has now fallen for three months in a row, and has now been down or unchanged for 11 consecutive months. The national economy continues to contract, with the advance estimate for first quarter Gross Domestic Product down a worse than expected 6.1 percent on an annualized basis. This follows a 6.3 percent annualized drop in the fourth quarter of 2008.
March's decrease puts the USD Index of Leading Economic Indicators for San Diego County at 100.7, down from February's reading of 103.0. Revised data for building permits and the national Index of Leading Economic Indicators led to a revision in the value of the USD Index for January and the previously reported changes for January and February. Please visit the Website address given below to see the revised changes for the individual components. The values for the USD Index for the last year are given below:
Index

% Change
2008
MAR
122.7
-1.4%
APR
121.1
-1.3%
MAY
119.8
-1.1%
JUN
118.6
-1.0%
JUL
117.2
-1.3%
AUG
116.3
-0.8%
SEP
115.4
-0.8%
OCT
112.8
-2.2%
NOV
110.5
-2.1%
DEC
108.1
-2.2%
2009
JAN
105.7
-2.3%
FEB
103.0
-2.6%
MAR
100.7
-2.2%
---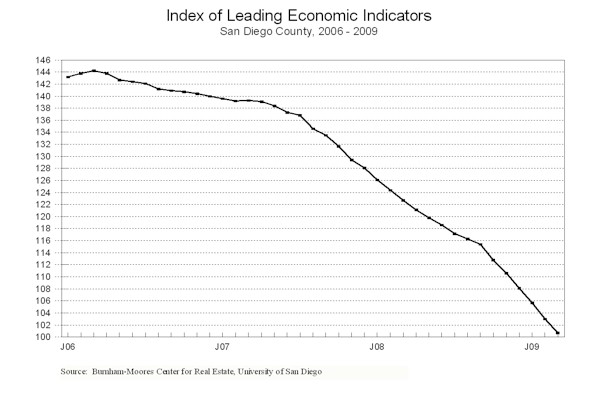 ---
For more information on the University of San Diego's Index of Leading Economic Indicators, please contact: