Leading Economic Indicators Up Slightly in July
Note: The tentative release date for next month's report is September 29.

August 27, 2009 --

The University of San Diego's Index of Leading Economic Indicators for San Diego County rose 0.1 percent in July. A strong gain in local consumer confidence, a lesser but still significant one in the outlook for the national economy, and a small increase in local stock prices was enough to push the Index to its fourth consecutive gain. On the downside, initial claims for unemployment insurance hit record levels, help wanted advertising remains down significantly, and building permits turned slightly negative.




Index of Leading Economic Indicators
The index for San Diego County that includes the components listed below (July)
Source: University of San Diego
+ 0.1 %
Building Permits
Residential units authorized by building permits in San Diego County (July)
Source: Construction Industry Research Board
- 0.18%
Unemployment Insurance
Initial claims for unemployment insurance in San Diego County, inverted, estimated (July)
Source: Employment Development Department
- 2.59%
Stock Prices
San Diego Stock Exchange Index (July)
Source: San Diego Daily Transcript
+ 0.12%
Consumer Confidence
An index of consumer confidence in San Diego County (July)
Source: San Diego Union-Tribune
+ 2.99%
Help Wanted Advertising
An index of online help wanted advertising in San Diego (July)
Source: Monster Worldwide
- 1.15%
National Economy
Index of Leading Economic Indicators (July)
Source: The Conference Board
+1.18%
The outlook for San Diego's economy remains cautiously optimistic. As has been mentioned previously, the bottom is projected to be reached in the first half o 2010. Some economic variables are likely to turn up before then, but job losses are expected to continue for the rest of this year. 2009 is shaping up to be the worst year ever for San Diego County in terms of net employment loss, with the job loss for July compared to July 2008 topping 55,000. The hardest hit sectors include construction (down 10,400 jobs), leisure and hospitality (-9,300), administrative, support, and waste services (-9,200), retail trade (-8,000), and manufacturing (-7,700). The only positive sector for job growth was in healthcare, but only 800 jobs were created in that industry in the last year. Employment will be among the last economic indicators to rebound as employers have squeezed productivity gains out of their workers and will be reluctant to expand their workforces unless they are absolutely certain that a recovery has taken hold.
Highlights: A modest rebound in residential units authorized by building permits came to an end as that component fell for the first time in four months. Only 177 residential units were authorized in July, which was the third worst total ever, topped only be the abysmal numbers in January and February of this year. . . Both labor market variables remain under pressure. Initial claims for unemployment insurance hit a new all-time high, topping the 38,000 mark in July. Hiring remains at depressed levels, although the decline in help wanted advertising was the smallest since September 2008. The net result was that the local unemployment rate increased to 10.3 percent in July. . . The trend in local consumer confidence continues to be positive compared to the end of 2008 and the beginning of this year. The key to a rebound is whether and when this increased confidence translates into greater consumer spending and housing sales. . . Local stock prices advanced for the fourth month in a row, although the gain was relatively small compared to recent months. . . The national Index of Leading Economic Indicators also rose for the fourth consecutive month. While the Gross Domestic Product (GDP) fell in the second quarter of 2009, the annualized change of -1.0 percent was much lower than the 5.4 percent and 6.4 percent drops in the fourth quarter of 2008 and the first quarter of this year respectively. Look for GDP growth to turn positive in the third quarter.
July's decrease puts the USD Index of Leading Economic Indicators for San Diego County at 101.7, up from June's reading of 101.6. There were revisions to the national Index of Leading Economic Indicators for April and May, but they did not affect the percentage change or the previously reported level of the USD Index. Please visit the Website address given below to see the revised changes for the individual components. The values for the USD Index for the last year are given below:
Index

% Change
2008
JUL
117.2
-1.3%
AUG
116.3
-0.8%
SEP
115.4
-0.8%
OCT
112.8
-2.2%
NOV
110.6
-2.0%
DEC
108.2
-2.2%
2009
JAN
105.7
-2.3%
FEB
102.9
-2.7%
MAR
100.7
-2.2%
APR
100.9
+0.2%
MAY
101.2
+0.3%
JUN
101.6
+0.4%
JUL
101.7
+0.1%
---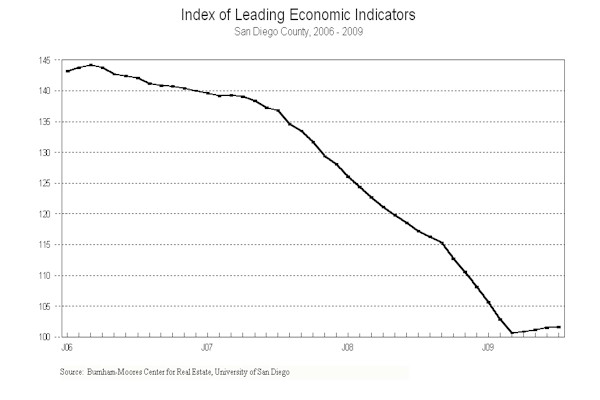 ---
For more information on the University of San Diego's Index of Leading Economic Indicators, please contact: