Leading Economic Indicators Up Slightly in February
Note: The tentative release date for next month's report is April 27.
March 25, 2010 -- The University of San Diego's Index of Leading Economic Indicators for San Diego County rose 0.1 percent in February. The month saw moderate gains in building permits, initial claims for unemployment insurance, and help wanted advertising, as well as a smaller increase in the outlook for the national economy. These outweighed declines in local stock prices and consumer confidence to push the USD Index to its 11th straight monthly increase. February's gain however was the smallest in those 11 months.
Index of Leading Economic Indicators


The index for San Diego County that includes the components listed below (February

)
Source: University of San Diego

+ 0.1 %

Building Permits
Residential units authorized by building permits in San Diego County (February)
Source: Construction Industry Research Board
+ 0.84%

Unemployment Insurance


Initial claims for unemployment insurance in San Diego County, inverted, estimated (February)
Source: Employment Development Department
+ 0.69%

Stock Prices


San Diego Stock Exchange Index (February)


Source:

San Diego Daily Transcript

- 0.75%

Consumer Confidence


An index of consumer confidence in San Diego County (February)


Source:

San Diego Union-Tribune

- 0.64%

Help Wanted Advertising


An index of online help wanted advertising in San Diego (February)
Source: Monster Worldwide
+ 0.53%

National Economy


Index of Leading Economic Indicators (February)
Source: The Conference Board
+ 0.18%
After unprecedented volatility for the last couple of years, the USD Index has "settled down," with no major change in any component in either direction for the last two months. The outlook then remains for positive but slow growth for the local economy for the year ahead. The growth may be uneven, with occasional setbacks. One potential problem is the budgetary difficulties faced by the state and by local governments. Due to requirements to have balanced budgets, state and local governments either have to raise taxes or cut jobs and spending or both, which makes a bad economic situation worse. Other things to keep a watch for are another wave of foreclosures due to the severe job losses in the local economy and weakness in commercial real estate, where a glut of retail and office space is putting pressure on commercial real estate owners and their lenders.
Highlights: January and February of 2009 were the two worst months ever for residential units authorized by building permits. The first two months of 2010 have not been great by historical standards, but residential units authorized are more than triple what they were the year before. . . There continues to be good news in terms of the labor market components. The rate of job loss continues to fall as measured by initial claims for unemployment insurance. Unfortunately, something not measured in the index is that filings for extended unemployment benefits through various federal programs remains very high as people have been unemployed for much longer periods than in the past. On the other side of the labor market, help wanted advertising now has a modest four month positive streak, after having fallen for 38 months in a row. This good news has not yet translated into improvements in the employment situation, with the local unemployment rate hitting 11 percent in January, a new high for this downturn. . . Local consumer confidence registered its second straight loss in February. After rebounding sharply from an all-time low in March of last year, local consumer confidence has hit a plateau as local consumers wait for better news on the employment front. . . Local stock prices turned negative as investors remain concerned about the strength of the recovery and the possibility of a "double dip" recession. . . The national Index of Leading Economic Indicators has mirrored the performance of the local index by also rising for 11 consecutive months. Although the end of the "Great Recession" has not yet been declared, there are signs that the national economy may already be on the rebound. Gross Domestic Product (GDP) grew at a 5.9 percent annual rate in the 4th quarter of 2009, the strongest quarterly growth since 2003.
February's increase puts the USD Index of Leading Economic Indicators for San Diego County at 107.8, up from January's revised reading of 107.7. Changes in all the components, but most notably initial claims for unemployment insurance, led to a revision in the previously reported change and level of the Index for January. Please visit the Website address given below to see the revised changes for the individual components. The values for the USD Index for the last year are given below:
Index

% Change
2009
FEB
102.7
-2.5%
MAR
100.7
-1.9%
APR
101.1
+0.4%
MAY
102.0
+0.8%
JUN
102.9
+0.9%
JUL
103.6
+0.6%
AUG
104.5
+0.9%
SEP
105.8
+1.2%
OCT
106.3
+0.5%
NOV
106.5
+0.1%
DEC
107.2
+0.7%
2010
JAN
107.7
+0.4%
FEB
107.8
+0.1%
---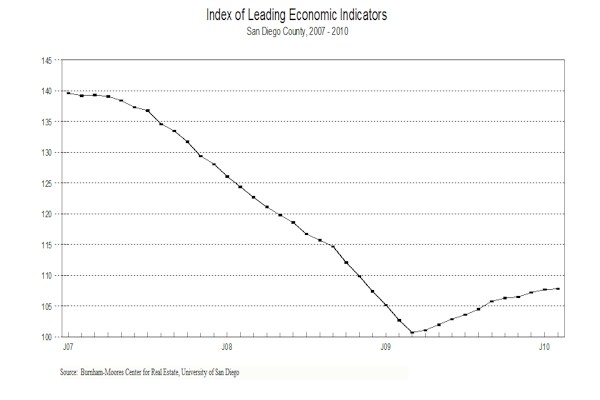 ---
For more information on the University of San Diego's Index of Leading Economic Indicators, please contact: