Leading Economic Indicators Up in January
Note: The tentative release date for next month's report is March 27.
February 28, 2012 -- The USD Burnham-Moores Center for Real Estate's Index of Leading Economic Indicators for San Diego County rose 0.9 percent in January. The advance was led by sharp increases in consumer confidence, initial claims for unemployment insurance, and local stock prices. Help wanted advertising and the outlook for the national economy were also up solidly. The only component that declined in January was building permits. After a stretch of six months that alternated between advancing and declining, the USD Index has now put together a modest streak of three straight up months.
Index of Leading Economic Indicators




The index for San Diego County that includes the components listed below (January

)
Source: USD Burnham-Moores Center for Real Estate
+ 0.9 %

Building Permits


Residential units authorized by building permits in San Diego County (January)
Source: Construction Industry Research Board

- 0.55%

Unemployment Insurance


Initial claims for unemployment insurance in San Diego County, inverted (January)
Source: Employment Development Department
+ 1.07%

Stock Prices


San Diego Stock Exchange Index (January)


Source:

San Diego Daily Transcript

+ 1.07%

Consumer Confidence


An index of consumer confidence in San Diego County, estimated (January)


Source: The Conference Board

+ 1.93%

Help Wanted Advertising


An index of online help wanted advertising in San Diego (January)
Source: Monster Worldwide
+ 0.84%

National Economy


Index of Leading Economic Indicators (January)
Source: The Conference Board
+ 0.82%
January's solid advance means that the outlook for the local economy continues to be positive for most of 2012. One development that could slow the local economy is the recent surge in gas prices. Prices usually rise heading into the spring as refineries in California shift to producing the summer blend of gasoline, but the shutting down of a refinery combined with a big increase in the price of oil due to tensions with Iran has caused prices to hit record levels for February. There are three potential negative consequences of this price increase: First, consumer buying power is reduced. For every 10 cent increase in the price of a gallon of gas, $8 - $10 million dollars a month is taken out of the local economy; consumers spend that much more on gasoline instead of other goods and services. Second, the prices of other goods increase due to higher shipping costs. Finally, consumer confidence is reduced (see below), which could lead to lower spending and a slowing of the economy.

Highlights: After increasing by 56 percent in 2011, residential units authorized by building permits started 2012 very slowly. Multi-family units authorized were particularly weak after nearly tripling in 2011. . . For the fourth month in a row, both labor market variables were positive. January is usually the highest month of the year for initial claims for unemployment insurance. When seasonally adjusted, initial claims hit their lowest level since August 2008. On the hiring front, help wanted advertising rose for the 13th straight month and is up more than 20 percent when compared to January 2011. . . Positive news about the economy, particularly on employment, caused consumer confidence to surge in January. But that was before the recent spike in gasoline prices. It remains to be seen whether confidence can hold up in the wake of the gas price increase, as there has been a negative correlation between the two variables in the past. . . Local stock prices matched the rest of the financial markets and began the year on a strong note. Many San Diego companies are smaller ones listed on the NASDAQ, which has been particularly strong so far in 2012. . . The national Index of Leading Economic Indicators rose for the ninth consecutive month, suggesting continued growth in the national economy. While not spectacular, GDP growth is expected to be about 2 – 2.5 percent for the year, with the national economy expected to add about two million jobs in 2012.

January's increase puts the USD Index of Leading Economic Indicators for San Diego County at 118.1, up from a revised reading of 117.1 in December. Revised data for local stock prices, consumer confidence, and the national Index of Leading Economic Indicators for both November and December led to a revision in the level of the Index for those months. Also, the previously reported change of +0.2 percent for November was revised upward to +0.4 percent. Please visit the Website address given below to see the revised changes for the individual components. The values for the USD Index for the last year are given below:
Index

% Change
2011
JAN
111.7
+1.0%
FEB
114.0
+2.0%
MAR
115.3
+1.2%
APR
116.4
+1.0%
MAY
117.2
+0.7%
JUN
116.9
-0.2%
JUL
117.2
+0.2%
AUG
116.0
-1.0%
SEP
116.1
+0.1%
OCT
115.9
-0.2%
NOV
116.4
+0.4%
DEC
117.1
+0.6%
2012
JAN
118.1
+0.9%
---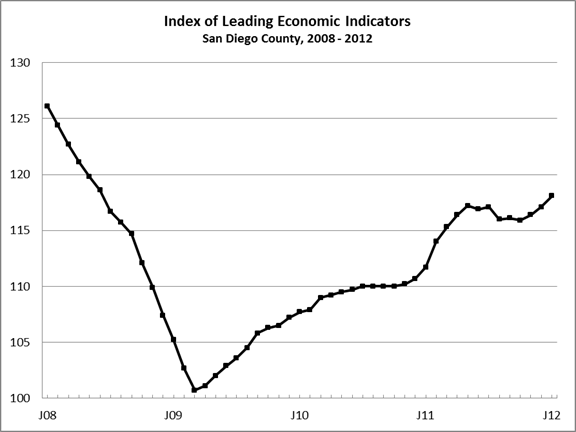 ---
For more information on the University of San Diego's Index of Leading Economic Indicators, please contact: