Leading Economic Indicators Up in April
Note: The tentative release date for next month's report is June 28.
May 31, 2011 -- The USD Burnham-Moores Center for Real Estate's Index of Leading Economic Indicators for San Diego County rose 0.9 percent in April. The increase was led by sharp gains in building permits and help wanted advertising and was supported by moderate gains in initial claims for unemployment insurance, local stock prices, and local consumer confidence. These far outweighed a decline in the outlook for the national economy to push the USD Index to its 22nd gain in 25 months (with the other three months unchanged).
Index of Leading Economic Indicators




The index for San Diego County that includes the components listed below (April

)
Source: USD Burnham-Moores Center for Real Estate
+ 0.9 %

Building Permits


Residential units authorized by building permits in San Diego County (April)
Source: Construction Industry Research Board

+ 2.34%

Unemployment Insurance


Initial claims for unemployment insurance in San Diego County, inverted (April)
Source: Employment Development Department
+ 0.84%

Stock Prices


San Diego Stock Exchange Index (April)


Source:

San Diego Daily Transcript

+ 0.69%

Consumer Confidence


An index of consumer confidence in San Diego County, estimated (April)


Source: The Conference Board

+ 0.40%

Help Wanted Advertising


An index of online help wanted advertising in San Diego (April)
Source: Monster Worldwide
+ 1.37%

National Economy


Index of Leading Economic Indicators (April)
Source: The Conference Board
- 0.51%
The outlook for the local economy remains unchanged from recent months. Positive economy growth is expected for the local economy for the rest of 2011, even though the economic news is decidedly mixed. The national economy is growing, but that growth slowed in the first quarter due to high gas prices and cuts in government expenditures. Local employment is increasing, but the increase is slow when compared to the job losses the local economy suffered during the downturn. Housing prices in San Diego are up since the 2009 lows as measured by the S&P/Case-Shiller Home Price Index, but have fallen in each of the last three months. The latter is despite the fact that interest rates are at historic lows, employment is picking up, and new home inventory is low due to low single-family home construction. It is said that stock prices climb a "wall of worry." Whether that applies to the general economy remains to be seen.

Highlights: Residential units authorized by building permits continue to surge upward. Through the first four months of 2011, residential units authorized are nearly double what they were in the same period in 2010. While single-family units are still down for this period, multi-family units authorized are now nearly five times the level of last year and are double the amount of single-family units. As a point of comparison, the ratio was reversed in 2010, when single-family units authorized were twice as much as multi-family units for the entire year. . . For the fourth month in a row, both labor market variables (initial claims for unemployment insurance and help wanted advertising) were positive. On the latter, the Monster Employment Index for San Diego topped 80 for the first time since November 2008. The net result was that the local unemployment rate fell to 9.8 percent in April, down from 10.2 percent in March. While April is usually a good month for employment as firms gear up for the summer tourism season, this was still the first time the local unemployment rate has been under 10 percent since May 2009. . . The trend in local consumer confidence remains positive despite high gas prices, and has now been up for a full year. This is significant given the large role that consumer spending plays in the local economy. . . After falling in March, local stock prices resumed their advance in April and have now been up in eight of the last nine months. . . The outlook for the national economy turned negative as the national Index of Leading Economic Indicators dropped for the first time in 10 months. The national economy showed signs of slowing as the second estimate of GDP growth for the first quarter of 2011 was at a 1.8 percent annualized rate, down from the "advance" estimate of 3.2 percent reported last month.

April's increase puts the USD Index of Leading Economic Indicators for San Diego County at 116.3, up from March's reading of 115.3. Revised data for building permits and the national Index of Leading Economic Indicators led to revisions in the value of the Index for December through February and in the previously reported changes for December and March. Please visit the Website address given below to see the revised changes for the individual components. The values for the USD Index for the last year are given below:
Index

% Change
2010
APR
109.2
+0.1%
MAY
109.5
+0.3%
JUN
109.7
+0.2%
JUL
110.0
+0.3%
AUG
110.0
+0.0%
SEP
110.0
+0.0%
OCT
110.0
+0.0%
NOV
110.2
+0.3%
DEC
110.7
+0.4%
2011
JAN
111.7
+1.0%
FEB
114.0
+2.0%
MAR
115.3
+1.2%
APR
116.3
+0.9%
---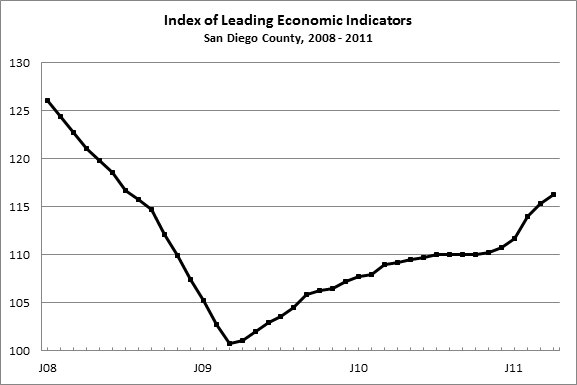 ---
For more information on the University of San Diego's Index of Leading Economic Indicators, please contact: